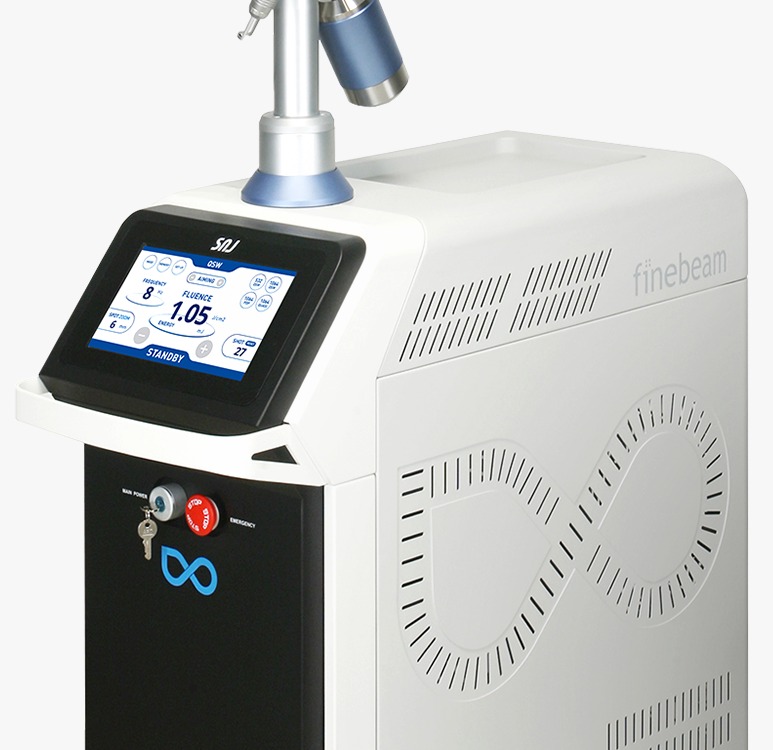 LASER TREATMNET FOR PIGMENTATION
Laser Treatment

Sometimes when the pigmentation is resistant to other treatment modalities we may have to go for laser treatment.
This is the same laser which is used for tattoo removal. We at Dermatrichs clinic believe in using the best platforms for treatment both result and safety wise. Therefore we are using only FDA approved FINEBEAM Q SWITCHED ND-YAG LASER.
This machine has proven safety record with the utmost premium results.
How it works?
When it comes to laser tattoo removal, the Q-Switched Nd:YAG laser targets ink pigment and breaks it up into smaller particles through powerful bursts of energy. The ink is then absorbed into the bloodstream and eventually expelled from the body. Similarly it destroys the melanin which provides color to skin and is pathologically increased in certain skin conditions. The Q-Switched Nd:YAG laser utilizes two energy frequencies; 1064 nanometers, to target deeper skin layers, and 532 nanometers, to address hyperpigmentation and more superficial layers.
Where it can be used?
1-Acne scars
2-Age spots and brown spots
3-Aging face and neck
4-Birth marks
5-Moles
6-Tattoo removal
Other treatment options for Pigmentation-peels
As the name suggests these agents cause superficial peeling off of the skin after the procedure. along with the shedding of the skin new skin is formed underneath which is better in texture and pigmentation.
Few medications are used before and after the procedure, enhancing the peels' effect.
LASER TREATMNET FOR PIGMENTATION
Finebeam dual q switch laser
One of the few active Q switch lasers in the city, FINEBEAM is also FDA-approved for any sort of pigmentation, be it melasma, freckle, nevus or mole removal. This machine along with the expertise of our doctors delivers the best treatment for our patients. The treatment comprises of a few sitting in a gap of a month AND YOU WILL GET THAT BLEMISH FREE SKIN, you always wanted.
TATTOO REMOVAL-
It's not unusual for a person to change their mind after getting a tattoo. In fact, one survey says 75 percent of their 600 respondents admitted to regretting at least one of their tattoos. But the good news is there are things you can do after getting a tattoo to lower your chances of regret. laser tattoo removal is one of the best and most sought-after treatments for tattoo removal. The high energy of this device means fewer sittings and better results.
​
HOLLYWOOD FACIAL/ CARBON FACIAL- 
The latest development in cosmetic treatment gives skin tightening and facial rejuvenation along with a celebrity-like glow.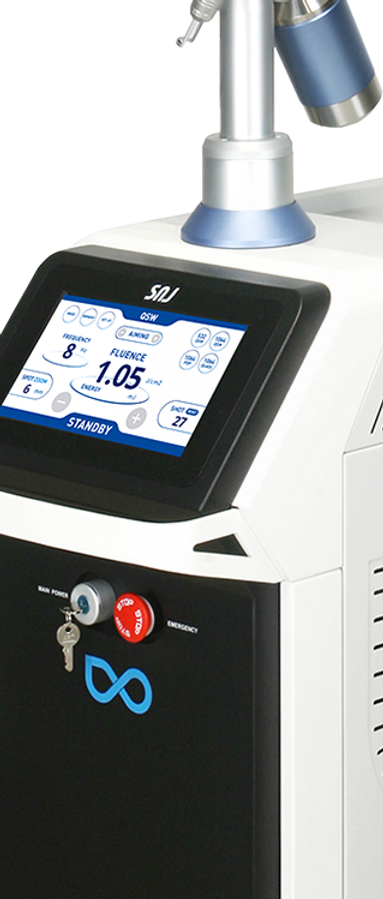 Frequently Asked Questions
At Dermatrichs clinic our physicians are extensively trained on laser devices to provide you the best result for your treatment using latest techniques effectively and safely. The machines are among the best.
The results are long lasting and almost permanent in many cases but you will require to follow the advice given by the experts. Some conditions like large tattoos, melasma are treated in multiple sessions whereas most others like sun damaged spots, age spots will need fewer sessions.
First of all we will do a detailed assessment of your skin concerns to determine the best suited parameters according to your skin.
This is followed by numbing your skin with a cream which is to be left for 30 minutes to 40 minutes. During the treatment you will be provided with a protective eyewear. The physician will guide the laser across the treatment area, and deliver powerful bursts of energy to break down the pigment. Some discomfort might be experienced but is easily tolerable. Some erythema may occur post procedure which settles on icing or on its own in some time.