Laser Hair Removal In Kanpur
Laser Hair Removal is a safe and effective way to get rid of unwanted hair. It uses laser technology to target the hair follicles and permanently reduce hair growth. To ensure the best possible results, it's important to look for a Laser Hair Removal skin doctor in Kanpur who specialises in the procedure and uses state-of-the-art equipment. Dr. Pratibha, our lady skin doctor in Kanpur, has over 15 years of experience in the field of dermatology. She provides a wide array of treatments for a number of skin and hair disorders that patients may be experiencing. Skin specialists at Dermatrichs are specialised in handling all the laser machines and medical tools. They guarantee the most secure care with the utmost regard for patient comfort.
How does Laser Hair Removal works
Laser Hair Removal works by emitting pulses of light into the follicle. The heat from the laser destroys the hair at its root, preventing future growth. Laser Hair Removal has been clinically proven to provide long-lasting results after multiple treatments.
Medical Devices for Laser Hair Removal
At Dermatrichs, we use Alma Soprano, the world-famous machine, globally approved for painless laser hair removal treatment. Soprano Ice hair laser removal system has the highest reviews and ratings than any other machine with a proven safety record. While Soprano Ice costs substantially more than any other machine and is rarely available in the market, it is the only machine we use at Dermatrichs as it provides the absolute best results.
The Alma Soprano Ice Laser Hair Removal Treatment uses advanced cooling technology to protect the skin while delivering efficient laser energy, resulting in a safe and comfortable treatment with maximum results. The classic wavelength in laser hair removal, the 810 nm wavelength, offers deep penetration of the hair follicle with high average power, a high repetition rate and a large 2cm spot size for fast treatment of large body areas, even full body in a short time.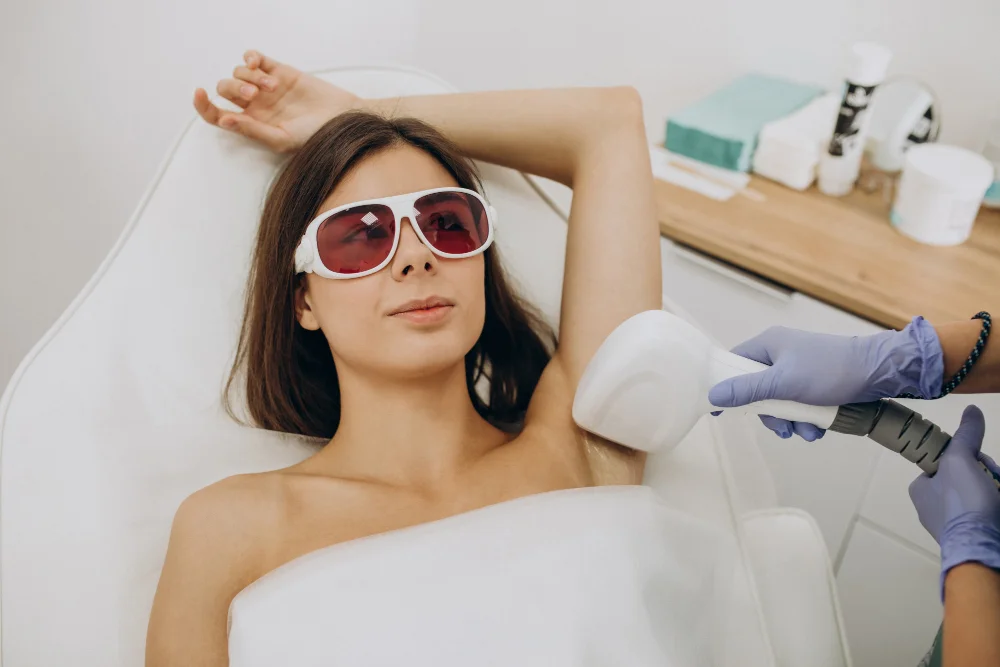 FDA approved. 

Works even on tanned skin

Virtually Painless

Safe for all skin types

Perfect for any area of the body
At Dermatrichs, we provide a comprehensive laser hair removal service. Our experienced laser hair removal technicians use advanced equipment to safely and effectively reduce unwanted body hair. 
We offer laser hair removal treatments on any area of the body, with results lasting up to several years. Common treatment areas include the face, underarms, legs, and bikini area.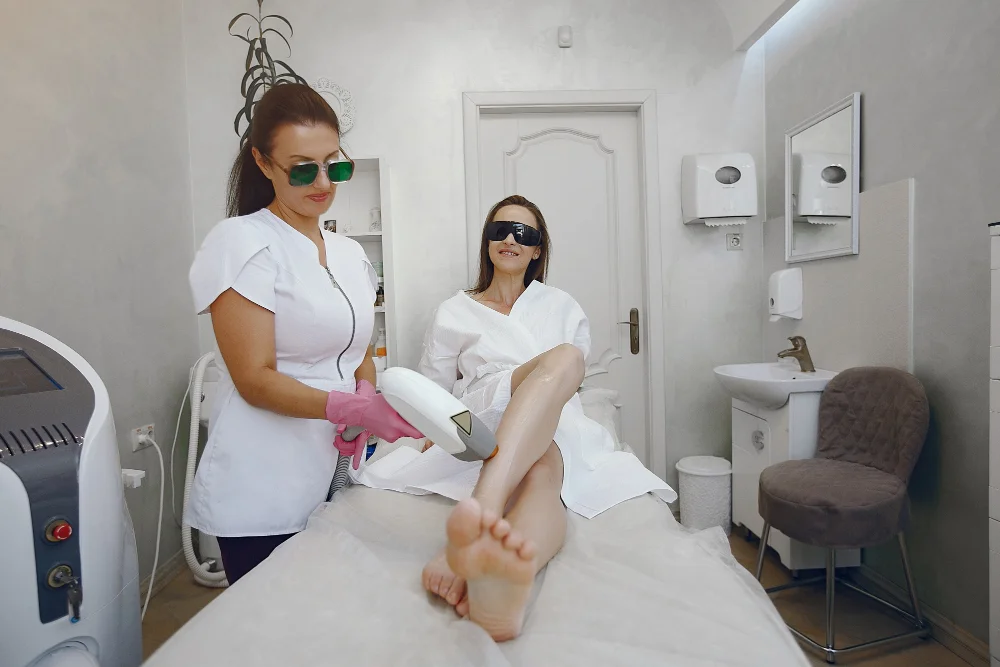 Our laser hair removal skin specialist may suggest the number of treatments needed, spaced several weeks apart, depending on the area being treated, as well as the individual's skin type and their hair growth pattern. Many patients may see results after just two or three treatments.  
Laser hair treatment is quick and painless, and it can provide long-lasting results with minimal risk but it's best to get the procedure done by only a specialised dermatologist for the safest and best possible outcome. Thus, only choose a trusted expert dermatologist in Kanpur.
Preparations before Laser Hair Removal
Before your laser hair removal appointment with our skin specialist in Kanpur, it's important to take certain steps to ensure the best possible outcome.
Shave the area to be treated but do not wax or pluck, as this can interfere with the laser hair removal process. 

Avoid sun exposure for at least two weeks prior to treatment.

Inform your laser hair removal specialist of any medications you are taking, as some can increase sun sensitivity.
Benefits of Laser Hair Removal
Our well-qualified hair removal skin doctor in Kanpur at Dermatrichs, can help you get the smooth, hair-free skin you've been dreaming of. It's important to discuss any potential risks associated with laser hair removal with a qualified laser hair removal skin doctor in Kanpur to ensure the best possible results.
Common benefits includes:
Reduced risk of razor burn and ingrown hairs

No need for waxing or shaving

Quicker and more precise results than waxing or electrolysis

Less discomfort than traditional methods

Permanent reduction in hair growth
It's important to discuss any potential risks associated with Laser Hair Removal with a qualified laser hair removal skin dermatologist in Kanpur.
Laser Hair Removal is a generally safe procedure with minimal recovery time. 
The treatment area may be slightly sore and swollen for one to two days following the procedure, but this should subside quickly. 
Sun protection is recommended after laser hair removal as the treated area may become more sensitive to sun exposure.
It is not recommended for pregnant women or those with a history of sunburns or skin irritation, and some medications can increase sun sensitivity.
Frequently Asked Questions